Daily Quote # 98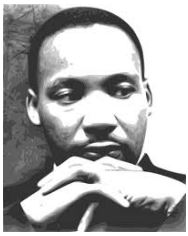 'I have a dream that my four little children will one day live in a nation where they will not be judged by the color of their skin, but by the content of their character.'
– Martin Luther King, Jr.
Martin Luther King, Jr. was a wonderful man. His life is an example of hard work, trials and victories.
I love the words of this quote. We all have dreams and aspirations, though we might not always vocalise them the way he has done.
In any event, it will be a great accomplishment when our world will place more value on the content of our character versus anything else – whether it be color, class, creed or status.
We have come a long way, and we continue to forge our way ahead.
Namaste