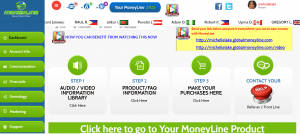 I am very new to GlobalMoneyLine and so far I am very impressed with it. Let me tell you a little bit or should I say, as much as I know about GlobalMoneyLine.
GlobalMoneyLine Review
Name: GlobalMoneyLine
Website: GlobalMoneyLine
Price: FREE $0, $20, $50, $100, $250, $500
Owners: Kent Anthony
Overall Rank: 4 out of 5
GlobalMoneyLine Overview
Basically, from what I understand, GlobalMoneyLine is a source to increase your business leads. As a business owner, we are always looking for ways to promote our business – email marketing is a very popular method. But of course, who wants to bombard our friends by sending out emails and opt-ins if we can find another source to generate the publicity all businesses seek? I know I am interested.
And so, I was more than just curious when I was introduced to GlobalMoneyLine a few days ago – to be exact, November 27, 2016. It was FREE to join and so I did. In a few days, I started getting email notifications that my 'leads' or 'moneyline' were growing. I finally decided to take a look. It was indeed.
As a matter of fact, I started writing this review at 15:39 today December 2, 2016 and took a snapshot of my moneyline and as you can see, it shows my leads of 2900. IMPRESSIVE???  In just 5 days!
Wait, look at the next snapshot approximately 1 1/2hours later.
Snapshot 15:39 December 2, 2016
Snapshot time 17:11 December 2, 2016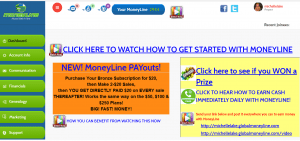 This is certainly encouraging and gets me thinking. Yes, thinking about the obvious fact that I have the possibility to reach all these potential leads for my business.
Let's take a look at this introductory video about GlobalMoneyLine.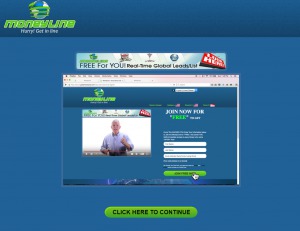 Ok, so let's step back and see what are the pros and the cons about GlobalMoneyLine. This way you will be empowered with all the information in order to make an informed decision.
The Pros:
It –
is FREE to sign-up. You can remain a free member for as long as you choose. Your moneyline will keep growing until you decide to take advantage of its potential
is global – there is a representation of possible leads from all over the world
allows open communication among ALL members even as a FREE member
has no email information exchange UNLESS it is a mutual exchange agreed between members, i.e. NO SPAMMING; only Admin and your sponsor will have access to your email address.
gives you have the potential to network with people in every possible niche you can think of
builds a global list of potential subscribers for you
can help you to advertise your web-business
The Cons:
if you decide to become a paid member, it will cost a few dollars. (see the description below) depending on your budget
if you remain a FREE member , you can only message any of your potential leads only one at a time, no 'mass-messaging', which also means more time on the computer to dedicate to your business
it is a fairly new company, so it has not yet built up it 'trust' among the business world representation
not enough training videos to acclimatize you with the product
Who is GlobalMoneyLine For?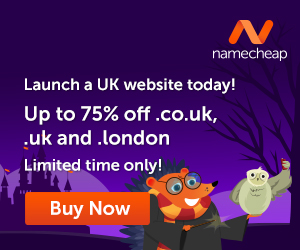 Basically, GlobalMoneyLine is for anyone looking to increase their 'outreach' in their online business:
affiliate marketers
bloggers
home business owners
internet marketers, and
network marketers
GlobalMoneyLine Tools & Training
There are videos and audio information on the site to help guide you through the system – initiation and business opportunity. I personally feel that there could be more in this aspect.
GlobalMoneyLine Support
There is support in the form of an online chat icon – you can specifically ask your question and be assigned a 'ticket' where you will be responded to. You can also find support from your sponsor via email. There is no telephone access.
GlobalMoneyLine Price
There are several pricing options being offered –
FREE – $0 to sign-up ( the point where I am as of now). Here you have access to communicate with anyone globally who signs-up after them in the MoneyLine. You can also send messages to one person at a time. You can only message a person once, unless someone replies to you.
Bronze Class Subscription – $20, one-time. Same as the FREE account but with the ability to send 20 messages at once. Bronze messages are displayed above Free messages.
Silver Class Subscription – $50, annually. Same as Bronze except now you can send messages to 50 people. Silver messages are displayed above Bronze messages. Silver members can create their own ad message on a Silver's Only page.
Gold Class Subscription – $100, annually. Same as Silver with your ability to send 100 messages. You can create your own ad which is displayed on a rotating basis on the dashboard of those who sign-up after you in the MoneyLine.
Platinum Class Subscription – $250, annually. Same as Gold with an increase of 250 messages at a time. Platinum messages are displayed above Gold. You can only message a person one-time PER MONTH, unless someone responds back to you.
Diamond Class Subscription – $500, coming soon.
GlobalMoneyLine also offers you the opportunity to make money as well, by having referrals.
GlobalMoneyLine at a Glance…
Name: GlobalMoneyLine
Website: GlobalMoneyLine
Owners: Kent Anthony
Price: FREE $0, $20, $50, $100, $250, $500
Overall Rank: 4 out of 5
VERDICT: LEGIT/NOT LEGIT
Personally, I see no harm in allowing someone else to recruit potential leads for your business. You are still in the driver seat when it comes to deciding who promotes your business. Why not give GlobalMoneyLine a chance to make things happens for you. It only takes 2 minutes to sign-up…and remember, you can remain a FREE member, grow your leads under you and take your time to decide what happens next.
Take a look, and please give me some feedback on your experience.
Snapshot at 21:06 December 2, 2016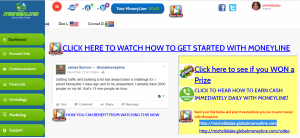 FREE World-Wide LIST / LEADS for You Here Now
I am inviting You Now, to Join for FREE, the World's Largest Straight One-Line of People like I did.
It only takes 2 minutes to Join, it's FREE! and it builds Your Global List for You!!
Everyone in the KNOW knows… The BIGGER Your List, The MORE You EARN!!